This Is The Wired Keyboard Apple Should Have Produced
Apple MacBook and MacBook Pro owners can now have a classic wired keyboard matching the Apple aesthetic's look, color, and feel. These keyboard is available in Silver or Space Gray colors.
The Matias Wired Aluminum Keyboard fills in a few holes that Apple opted not to pursue, taking design inspiration from Apple's famous aluminum keyboards.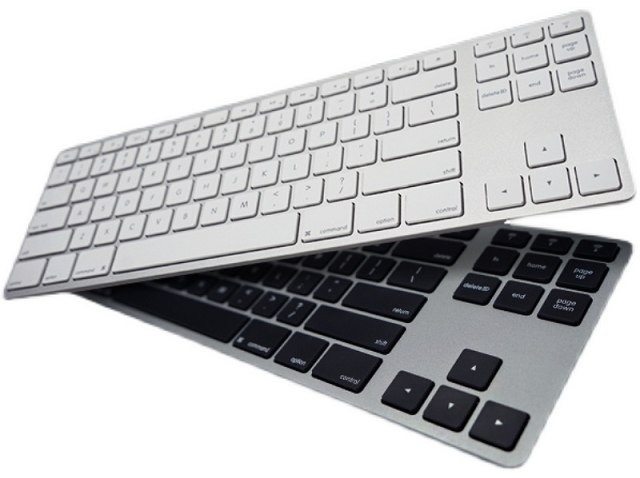 USB Hub: The built-in hub is ideal for connecting external drives as well as the standard wired mouse (or wireless dongle). The USB 2.0mouse-friendly (2-port) built-in hub is perfect for attaching your favorite wired mouse (or wireless dongle) to flash drives or other devices with a 2nd port available.
Number Pad: This is the one to get if you like Apple's wired keyboard with numeric keypad but wish it was wireless.
Smart Keys: You can monitor screen brightness, iTunes, and more with the Mac-friendly smart function keys.
USB-C in the package: There has been included in the box an adapter free for Mac users who may only have USB-C ports.
High precision dial with volume: Great for users with external speakers, although it also has volume keys, the volume dial gives you MUCH better volume control than you get from pressing just volume keys. The dial provides 64 volume levels, specifically, vs. 16 levels for the volume keys, 4x more accurate.
Mac-friendly key for features: The function keys, much like an Apple keyboard, let you monitor the brightness of the screen, volume, iTunes, and more. There is also a Fn key, which allows you to change the function keys briefly, when you need them, back to their traditional duties.
Support for Legacy Mac OS: All the way back to version 10.6.8, the Matias Wired Aluminum Keyboard is compatible with Mac OS X (Snow Leopard). This can be a lifesaver if you're running legacy software on older systems.
For more tech articles, reviews, advice and news read Jafworks.com